Moorgreen Country Show
Posted on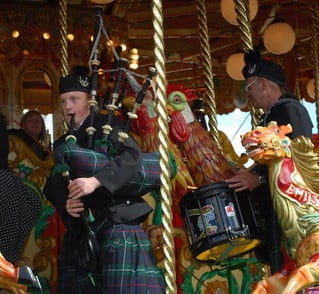 A lovely picture which just about sums up our weekend at the Moorgreen Show!
We were very honoured to be joined by our friends the Nottingham Seaforth Highlanders Pipe Band under their Pipe Major Bob Orridge. Together we formed what can only be described as a super band and entertained with some great shows in and out of the arena.
It was a real pleasure to have them with us and many laughs were had, not least when the very kind proprietor of this steam powered carousel let us all on for a free go, as long as we played! More photo's on our Gallery pages.